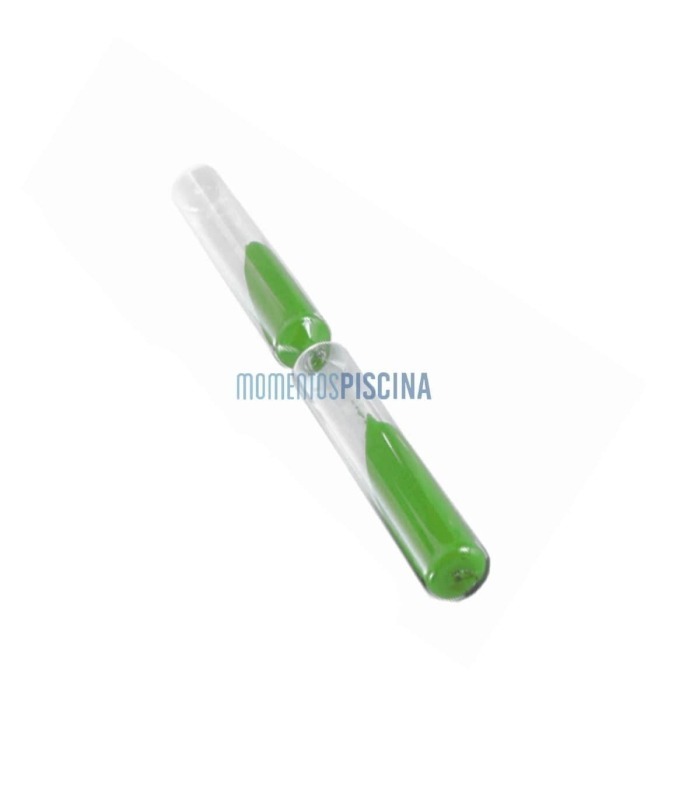  
Spare parts hourglass
Spare parts hourglass sauna.
Glass cylinders with colored sand to watch.
Height 270mm.
Weight 80 g.
Available colors:
or Blue
or Green
or Red
or White
+ shipping costs, see
here

FEATURES SPARE PARTS HOURGLASS FOR SAUNA
Spare parts for hourglass are the spare parts of the manufacturer of the hourglass for sauna with wooden casing of Moments Pool. This watch is a accessory of wood termoconformada with housing rotating assembly, which features a glass cylinder with sand that counts the time of the sessions of the sauna.
With its 270 cm in length, this great clock for sauna takes centre stage in the cabin as an element of decoration. Its large size allows it to be visible to all users, being able to see perfectly the sand clock from all distances and through the warm, moist environment of the sauna.
This cylinder with arena has the capacity of counting up to 15 minutes, the recommended time for a session of sauna healthier.
With the passage of time it is possible that the glass cylinder containing the sand clock to weaken and rome, but never the wood of the casing. That is why these parts will be of great utility if this cylinder were to break or weaken. Replace only what you need with the spare parts hourglass of Moments Pool.
To change this cylinder in the housing rotating wooden clock is the easiest, since you will only need to fit it in its location.
We stock spare parts of glass cylinders with sand of various colors , so you can choose the one that best suits the style of your cabin sauna or Spa & Wellness.
Choose between blue, green, red, or white and give your sauna a touch of color and an atmosphere more cheerful.
SPECIFICATIONS
Glass cylinders with sand in its interior for hourglass of duration 15 minutes
Tolerance of +/-2 minutes
Approximate diameter 22mm
Height 270mm
Weight 80 g
Available colors:
or Blue
or Green
or Red
or White