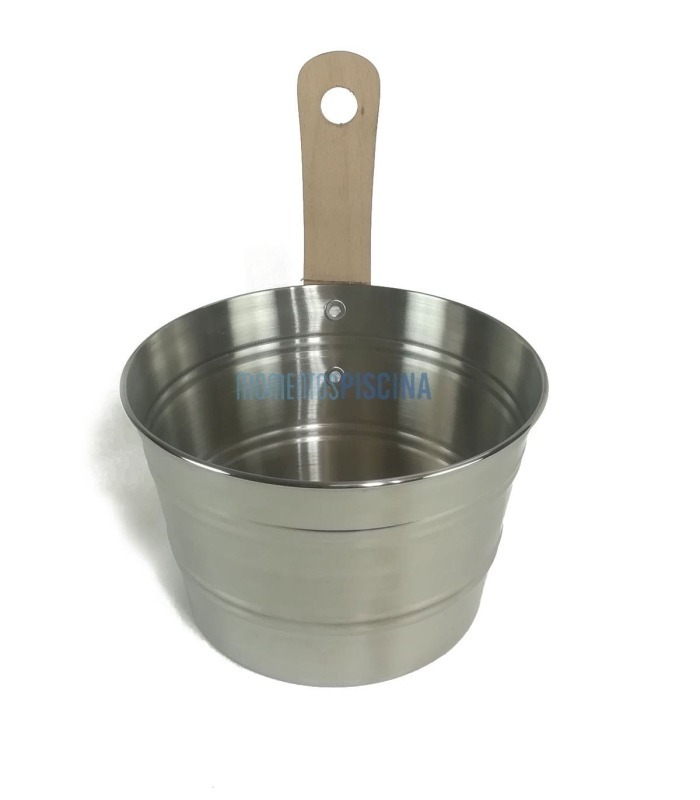  
Bucket stainless steel for sauna 4L
Bucket for sauna stainless steel.
Features hardwood handle for greater comfort.
Capacity of 4L.
220 x 145 mm (with handle 275mm).
Approximate weight 550g.
* Complete the set with the stainless steel sauna ladle.
+ shipping costs, see
here

BUCKET FOR SAUNA STAINLESS STEEL
The cube sauna is one of the products Spa & Wellness essential to a full experience in the sauna. This bucket is made of stainless steel to withstand the hot and humid environment inside the cabin of the sauna. Thanks to its wooden handleensures convenience and comfort in the grip more than satisfactory.
With this bucket with capacity of 4L not only do you have a utensil that is perfect to mix the essence, but an accessory is stylish and practical for your room of relaxation and worship of the body.
FEATURES BUCKET FOR SAUNA INOSIDABLE 4L
Thanks to the cube for sauna stainless steel Times swimming Pool, you can beautify your sauna with a fixture that is elegant and modern in addition to providing an extra quality and comfort.
The cube of stainless steel is a container used to mix the essence (usually of eucalyptus) with the water to generate steam.
One of the main differentiating characteristics of this cube sauna is a wooden handle to give this tool a comfort in the grip much larger. Thanks to the material with which this handle is manufactured, allows you to pick the cube in a full sauna session without having to worry about a possible overheating and risk of burns. Wood is a material non-conductive of heat, so it is perfect for this kind of accessory for sauna.
Complete your relaxation zone in the sauna with a bucket of aspect modern and innovative. If you're looking for a bucket of sauna practical and you want to get out of the typical wooden cube, the cube of stainless steel in our store swimming pools is perfect for you.
MODE OF EMPLOYMENT OF THE CUBE SAUNA STAINLESS STEEL
To get the best out of this accessory, one must follow a few simple steps that will ensure us an excellent result:
Fills the bucket for sauna with water to generate steam in the interior of the sauna.
Pour in the water from the interior of the cube 1 or 2 plugs of the essence chosen. The most commonly used in saunas and areas Wellness is the essence of eucalyptus.
Help of a spoon or ladle for saunas to pour the water with the essence to the volcanic stones of the heater.
SPECIFICATIONS OF THE BUCKET 4L
Features a wooden handle for a more comfortable grip.
Capacity of 4L.
Measures: 220 x 145 mm (with handle 275mm)
Approximate weight 575g.