Reducer PH MINUS LQ liquid
Liquid pH reducer
Liquid compound to reduce the pH of water when it exceeds 7.6.
Specially formulated to be dosed by pH regulating equipment
20L container
Delivery within 3-5 days (ESP/PT) / 7-10 (EUROPE)
Distributor: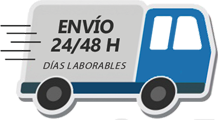 Regulate pH in swimming pools 
The pH is a measure much to consider in the swimming pools. The pH indicates the degree of acidity or basicity of the water. Expressed on a scale between the values 0 (high acidity) to 14 (high basicity).
The swimming pool water with a pH value less than 7 is acidic and if it is greater, it is basic. It is indispensable to control and adjust the pH, if necessary, every day.
The ideal value of the pH of the pool water should always be between 7.2 and 7.6
PH scale

0

7

14

Acid

Neutral

Alkaline

 
 
 

0 - 7.1

7.2 - 7.6

7.7 - 14

Corrosive water for installation. Can irritate the eyes, skin and mucous membranes

Water healthy and under control

Increased consumption of chemicals that do not act correctly.
Effects of pH imbalance
A high pH causes:
Reduction of the effects of the disinfectant, it is necessary to spend more product (chlorine) to disinfect the same.
Muddy waters
Irritation of eyes and mucous membranes
Destruction of the protective layer of natural skin
Scale deposits on the pool
A low pH causes:
Corrosion of the metal materials (ladders, accessories, pool...)
Deterioration of the glass
Irritation of eyes and mucous membranes
Excessive use of disinfectant
Dosage and method of use of pH MINUS liquid
Add 3,25 L of PH MINUS LQ to reduce in 0.2 units of the pH of 100 m³ water. (the dose is indicative in nature)
It is a specially formulated product to be dosed into pool water by means of automatic equipment of regulation and control of the pH.
Performing a control, if necessary daily, the pH with a carrying case analyzer. The values should be between 7.2 and 7.6
Properties of pH MINUS liquid
| | |
| --- | --- |
| Look | Clear liquid |
| Color | Colorless |
| Density 20º | 1,097 - 1107 g/cm³ |
| pH of an aqueous solution of 10 % | 0 - 1 |
| Container | 20 L |
Data sheet
Etiqueta Connectif

Quimico piscina
Package size

20 Kg/L
Format

Granular
Anonymous customer published the 10/05/2016 following an order made on 21/04/2016
Correcto
Comment from Momentos Piscina the 11/05/2016
¡Gracias por su valoración, hasta pronto!