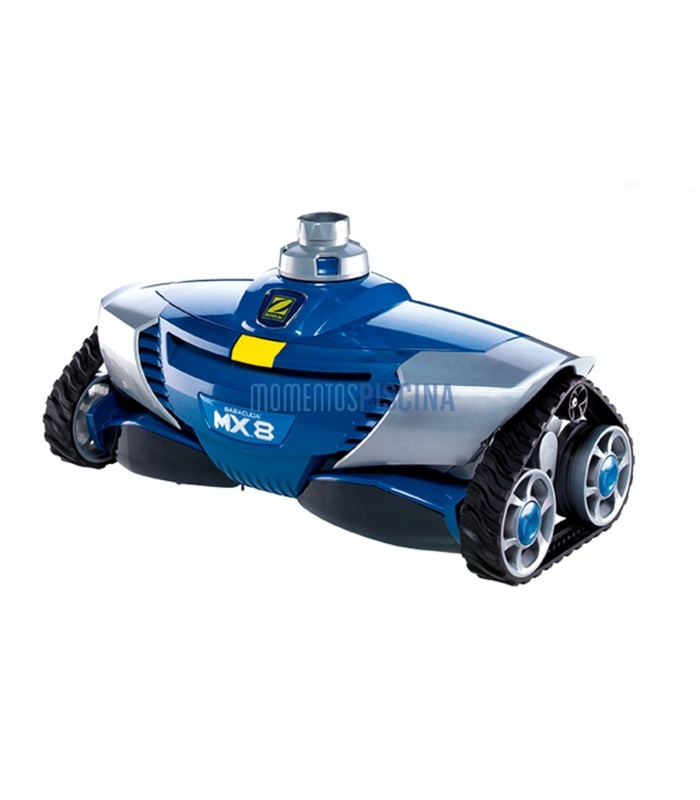  
Pool cleaner Zodiac MX8
Hydraulic suction pool cleaner for pools up to 12 x 6 m (40 x 20 ft.)
X-Drive navigation: cleans all pool areas
Two suction propellers and a powerful suction turbine
Twist Lock connection hoses: no suction loss
+ shipping costs, see
here

Zodiac MX8 hydraulic suction pool cleaner
The Zodiac MX8 pool cleaner is a hydraulic suction pool cleaner, so it works by connecting directly to the suction inlet of the suction pump. There is no need for an additional pump but you should choose the pool robot depending on the power of the pump you have. In this case the MX8 works with filtration systems from 3/4 HP power. 
Ultra-efficient Zodiac hydraulic pool cleaners
Zodiac's MX8 is a very high efficiency pool debris cleaner. It features high performance suction that cleans faster and more effectively than any other pool cleaner of its type.
It uses cyclonic suction technology to capture the maximum amount of debris while maintaining power for cleaning. 
Buying a Zodiac MX8 is saving time and effort in maintaining your pool. 
New technologies in hydraulic pool cleaners
Zodiac MX8 features X-Drive navigation intelligence for deep cleaning of the bottom and walls. This system guarantees a total coverage of the pool regardless of the bottom or the shape. 
Incorporates a powerful suction turbine with two suction propellers: the ultra-efficient power source provides maximum torque while operating at low flow, without overloading the pool system.
Belt drive system ensures perfect stability and mobility in all pools regardless of the liner. 
Cyclonic suction: wider cleaning path and greater suction of debris
X-Trax: excellent maneuverability, even in tight curves.
Zodiac MX8 features and benefits
For pools up to 12 x 6 m
All types of shapes: rectangular, oval and free form
All types of bottoms: flat, gentle slope, compound slope
All types of liners: gresite, liner, polyester, painted concrete
Twist Lock quick-connect hose: secure connection without loss of suction 
Simple and reliable
Zodiac MX8 pool cleaner technical features
| | |
| --- | --- |
| Cleaning area | Bottom and walls |
| Cleaning cycle | Recommended filtration of 6h in 3 cycles of 2h. |
| Power source | Pool filtration equipment |
| Displacement | Random |
| Installation | By user on pool cleaner or skimmer intake  |
| Operating system | Suction turbine and 2 suction propellers |
| Type of suctioned debris | Fine, medium |
| Hose length | 12 sections of 1 m |
| Cleaner dimensions | 41 x 19 x 22 cm |
| Filtration capacity | Pool filtration circuit |
| Cleaning coverage | 36 cm |
| Displacement speed | 8m/min |
| Minimum filtration pump power required | 3/4 HP (1 HP for gresite pools) |
Accessories included with the Zodiac MX8 robot
Twist Lock hose
Conical adapter
45º extension
45º elbow
Automatic flow regulator
Automatic flow regulation valve (skimmer)
Zodiac MX8 installation video
The following video explains the steps to follow for the installation of the Zodiac MX8 hydraulic pool cleaner.