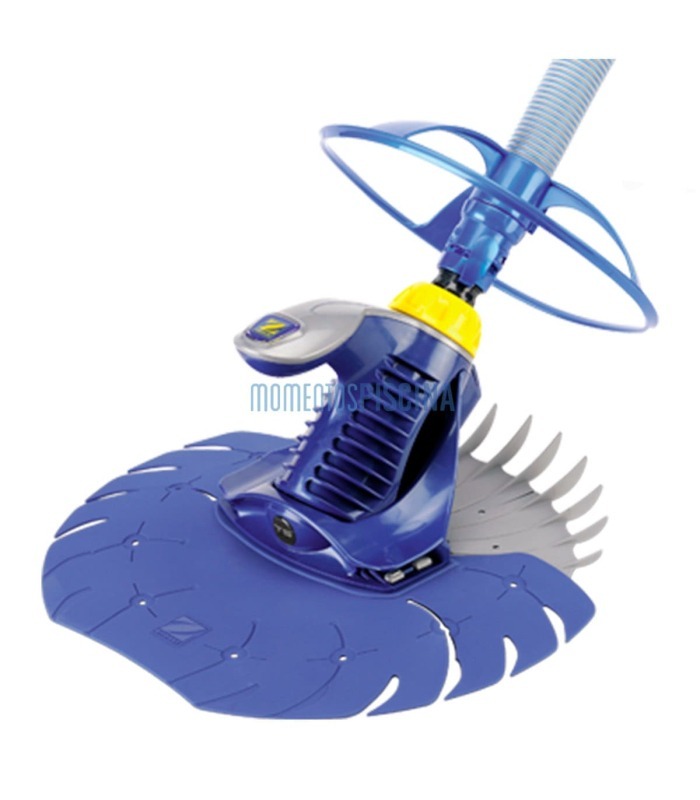  
Hydraulic pool cleaner Zodiac T5 Duo
Robot cleaner automatic with hydraulic operation
For swimming pools buried up to 12 x 6 m.
Easy to install, connects directly to the outlet of the suction or skimmer.
Minimum power recommended for the pump: 3/4 HP.
+ shipping costs, see
here

T5 DUO automatic pool cleaner 
Pool cleaning becomes a quick and easy task with the T5 DUO hydraulic pool cleaner. It is a hydraulic equipment that works by suction so it connects directly to the suction inlet of the pump. 
If what you are looking for is optimal cleaning, quick and easy installation and a compact and resistant design, the Zodiac T5 DUO is the best choice. 
The Zodiac T5 DUO robot is characterized by its optimal grip, its powerful suction motor, the ability to avoid obstacles and the safe connection without loss of suction. 
Patented technology with Zodiac T5 DUO
The T5 DUO pool cleaner is equipped with the latest technology to offer a simple and effective cleaning of the entire pool. 
DiaCyclone suction technology for long-lasting efficiency. The T5 features the new patented DiaCyclone diaphragm inside. More flexible and resistant, this genuine motor improves suction capacity by up to 40% at the same flow rate. 
Duo Traction Control maximum grip. The T5 can reach all areas of the pool thanks to its patented "Duo Traction Control" displacement control system: two independent flexible discs that improve mobility and adherence allowing better cleaning of the corners and walls of the pool. 
Anti-blockage deflector to avoid obstacles. The T5 Duo is equipped with an anti-blockage deflector that allows you to avoid obstacles that could hinder your movements: you can avoid steps, corners, stairs... 
Twist Lock hoses secure connection without loss of suction. This patented technology guarantees maximum hose tightness thanks to a more reliable and totally secure connection. The hoses are easy to connect and easier to maintain. 
Features and advantages Zodiac T5 DUO
All types of pools Private in-ground pools and above-ground pools with rigid walls up to 12 x 6 m (40 x 20 ft)
All types of shapes: rectangular, oval and free form
All types of bottoms : flat, gentle slope, compound slope
All types of liners : gresite, liner, polyester shell, reinforced PVC, painted concrete
Compact and resistant design
Zodiac T5 DUO robot technical features
| | |
| --- | --- |
| Maximum pool dimensions | 12 x 6 m |
| Hose length | 12 sections of 1 meter |
| Operating system | Diaphragm |
| Cleaning zone | Bottom and walls |
| Cleaning cycle | 6 hours in 3 cycles of 2 hours |
| Power source | Pool filtration equipment |
| Minimum pump power | 3/4 HP |
| Installation | By the user in the pool cleaner or skimmer inle |
| Type of waste | Fine and medium |
| Cleaner dimensions | 44 x 43 x 22 cm |
| Displacement | Random |
| Filtration capacity | Pool filtration circuit |
| Cleaning coverage | 44 cm |
| Displacement speed | 6m/min |
Zodiac T5 DUO installation
For the installation of the Zodiac T5 DUO it is important to take into account several factors and follow a few steps:
The suction cleaner is connected directly to the vacuum point or skimmer. No electrical connection is needed.
The length of the pool hose is the longest distance the cleaner can cover in the pool from the connection point (skimmer) to the farthest corner plus 1 meter. 
To optimize the installation, perform the flow test and adjust the flow rate using the regulating valve. 
Accessories included with the Zodiac T5 DUO robot
Twist Lock hose
Anti-block hose
Flow meter
Automatic flow regulation valve (skimmer)
T5 DUO features video
Discover in the following video the features of the most simple and efficient pool cleaner.