 
Salt test strips Aquacheck
For accurate analysis of sodium chloride (salt) levels
Ideal for salt electrolysis treated pools 
Tests your pool water in just a few minutes
Packaging: 10 strips per pot
+ shipping costs, see
here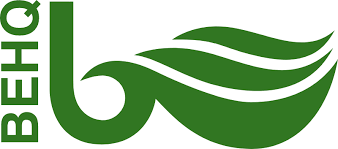 verified reviews(2)
Marcos M. published the 16/05/2022 following an order made on 08/05/2022
Es fácil de utilizar, compruebas no rápidamente el nivel de sal de tu piscina. Incluye referencias para saber si está alta o baja.
Anonymous customer published the 20/01/2021 following an order made on 07/01/2021
Buena
Measuring the salt level of the pool
Checking the salt level of the pool is important for proper pool maintenance. If the salt levels are lower than optimal, there will not be enough salt to disinfect the water and if they are higher, the chlorinator cell may deteriorate.  
To measure the salt concentration we have the Aquacheck salt test strips, they provide an accurate analysis of sodium chloride levels. It is a package containing 10 analytical strips.
Method of use
Fill a bottle with approximately 2.5 cm of pool or spa water.
Insert the lower end of the strip into the water sample. For accurate results keep the top half of the strip completely dry.
When the yellow band turns black, in about 3-4 minutes, remove the tape from the water sample and determine where the highest white dot (white peak) appears on the numerical scale of the test tape.
Compare that value with the table included in the package.
We recommend testing 2-3 times per week.
Check salt concentration
Once the analysis has been performed we will compare the sample obtained with the salt concentration graph.
Let's look at the following example: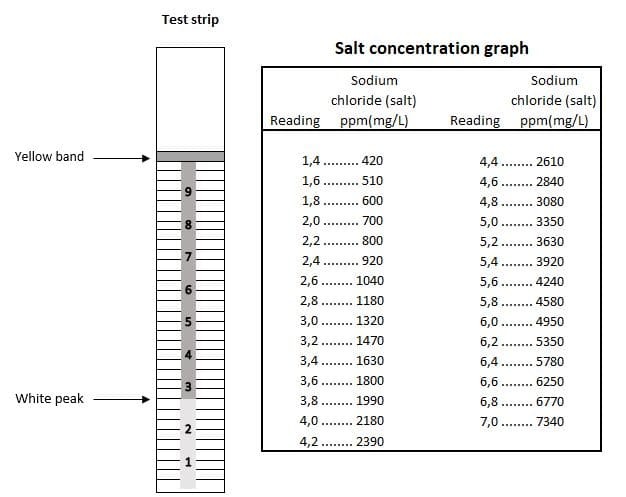 The proper salt concentration for a pool with a salt chlorinator should be between 4000 and 7000 ppm (mg/L). The graph gives us a range of 400 to 7000 ppm and the optimum level is at 5000 ppm, so it would be between 6 -6.2 in the graph reading.
In this example, on the test strip the white peak is at 2.8. If compared on the graph the number 2.8 corresponds to a sodium chloride (salt) level of 1180 ppm. 
We assume that the pool has a volume of 30 m³.
We will have to subtract the 5000 (optimum value) - 1180 (value obtained) = 3820 mg/ L
We multiply the 3820 by the m³ of the pool, so 3820 x 30 = 114600 grams.
In this case we have obtained a value of 114600 grams, so we will have to add 114.6 kg to reach the optimum level. 
Format

Strips

Type of case

Manual