 
Pump ESPA Silen S2 75 single Phase
Pump for swimming pools, ESPA Silen S2 75 compact and robust 3/4CV single phase.
This model is equivalent to the former ESPA Silen 2 75 3/4CV single phase (equivalent).
Indicated for the recirculation of water in swimming pools, domestic, or residential.
Fittings of aspiration and drive for gluing in 63 mm
Completely silent.
With pre-filter transparent cover.
Pump compatible for water treatment salt.
Reference manufacturer: 203155.
* Images technical specifications in the description below.
+ shipping costs, see
here

verified reviews(1)
Anonymous customer published the 25/11/2015 following an order made on 06/07/2015
Buena
Comment from Momentos Piscina the 21/03/2016
Gracias por su valoración, saludos!
Bomba piscina ESPA Silen S2 75 3/4CV Monofásica
Bomba centrífuga monocelular autoaspirante de la reconocida marca ESPA. El modelo Espa Silen S2 75 de 3/4CV es el modelo actualizado creado para substituir la antigua bomba ESPA Silen 2 75 3/4CV monofàsica, por lo que ambas bombas son completamente equivalentes. Los recambios para estas bombas también son equivalentes.
Algunas de las características a destacar de las bombas ESPA es que son compactas, con gran poder de aspiración y diseñadas para trabajar en la recirculación del agua de manera eficiente con el mínimo ruido posible. En el caso de las bombas Silen S2, estas también destacan por su robustez.
Las bombas para piscina ESPA Silen S2 son perfectas para piscinas domésticas o colectivas gracias a su mayor potencia que otros modelos como las Silen I o las Silen S. 
Todas las bombas piscina de Momentos Piscina se suministran con racores de aspiración e impulsión para conexión a sistemas de filtración con tuberías de diámetro 63 mm. Las versiones monofásicas se suministran con protector térmico incorporado.
Características bomba Espa Silen S2 75
Las bombas ESPA con sus más de 50 años de historia, han conseguido ser unas de las más prestigiosas y valoradas en el mercado. A estos sistemas de bombeo se les atribuyen las características de calidad, eficiencia y fiabilidad pero, sobretodo, de trabajar de manera silenciosa. Las bombas piscina ESPA cuentan con un gran prefiltro que garantiza una gran eficiencia energética y adaptabilidad a las condiciones y funcionamiento de cada piscina, hecho que también le permite reducir el ruido del funcionamiento de la bomba.
Innovación, ingeniería y servicio. Estos son los atributos que el fabricante de equipos de bombeo para piscina ESPA imprime en sus productos. Productos de bombeo eficiente y servicios de calidad orientados a sus clientes. Completamente silenciosas y de servicio continuo, las bombas online para piscinas SILEN S2 cuentan con protector térmico incorporado, tapón purga, prefiltro con tapa transparente y cierre antibloqueo. Las bombas Silen S2 destacan por ser bombas centrífugas monocelulares autoaspirantes, compactas y robustas.
La tienda online de Momentos Piscina es distribuidor oficial de bombas ESPA y cuenta con una amplia gamma de estos motores de agua. Cuenta con un equipo de expertos con más de 30 años de experiencia que pueden ayudarte a encontrar la bomba de piscina que más se adecue a tus necesidades y a tu piscina. Contacta con nosotros y te ayudaremos a encontrar la mejor bomba ESPA online y la más adecuada a ti.
Equipamiento Espa Silen S2
Pie / Base: Incluido
Prefiltro: Incluido
Racors: Encolar
Tapón de purga: Sí
Válvula de retención: No
Características eléctricas bomba piscina Espa Silen S2 75
Aislamiento eléctrico: Clase F
Factor de servicio: S1
Grado de protección: IP55
Rearme: Automático
Tipo de motor: Asíncrono
Tipo de rotación del motor: Velocidad constante
Tipo de servicio: Continuo
Características constructivas Espa Silen S2 75 3/4CV M
Diámetro aspiración: D63
Diámetro impulsión: D63
Estanqueidad mediante: Cierre mecánico
Etapas: Bomba centrífuga monoetapa
Refrigeración motor: Ventilador
Tipo de conexión en la aspiración: Racor encolar
Tipo de conexión en la impulsión: Racor encolar
Tipo de impulsor: Cerrado
Materiales bomba para piscina Silen S2
Cierre mecánico: Alúmina-Grafito
Cuerpo de aspiración: PP + 30% GF
Cuerpo de impulsión: PP + 30% GF
Cuerpo envolvente: PP + 30% GF
Difusor: PP + 30% GF
Eje bomba: Acero inoxidable AISI 420
Envolvente motor: Aluminio
Impulsor/es: PPO + 30% GF
Juntas: NBR
Material del pie-base: PP + 20% GF
Portasellos: PP + 30% GF
Prefiltro: PP + 30% GF
Tapa prefiltro: Policarbonato
Tornillería: Acero inoxidable AISI 304
Límites de utilización Silen S2 3/4CV
Nº arranques maximo del motor (arranques/minuto): 0,5
Presión máxima de trabajo (bar): 12
Temperatura del líquido (ºC): Min: 4 - Max: 35
TECHNICAL SPECIFICATIONS SILEN S2
PERFORMANCE CURVE SILEN S2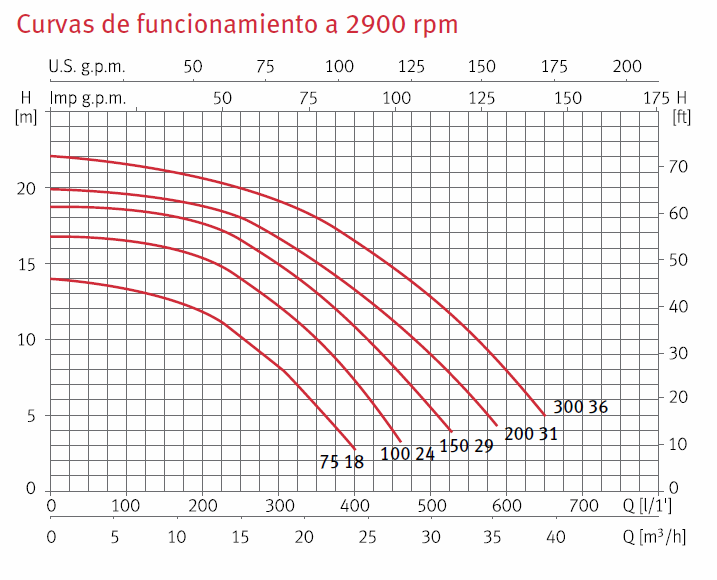 DIMENSIONS SILEN S2
Flow rate m³/h (at 10 mca)

12 - 16 m³/h

Power

0,75

Current

Single-phase

Variable speed

No

I have the ESPA pump

FLIPPER 2
TIFON 1