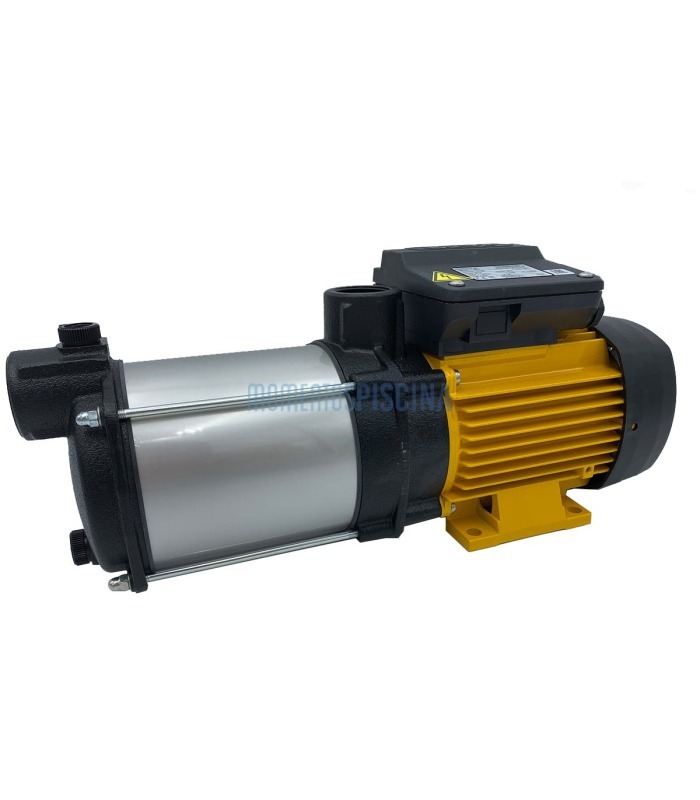  
verified reviews(2)
Miguel Juan M. published the 08/08/2021 following an order made on 02/08/2021
Buen producto. Muy silenciosa y eficaz. La uso para presurizacion doméstica y cumple su cometido a la perfeccion.
Joan M. published the 23/07/2021 following an order made on 12/07/2021
Llego rapido y sin incidencias
Description
Pump Espa Prisma
The Espa Prisma water pump is a horizontal centrifugal pump designed to work with clean water in domestic, industrial, agricultural and gardening applications. Suitable for applications such as water transfer, suction or drip irrigation, domestic pressurization or pressure equipment. We have a wide range of the Espa prisma water pump in single phase models, from the Prisma 15 2M of 0.33 HP to the Prisma 15 5M of 0.9 HP. In three-phase models, from the Prisma 15 3 of 0,5 HP to the PrismA 15 5 of 0,9 HP. 
Features Prisma pump
Completely silent and in continuous service, the Espa prisma water pumps have a high degree of protection and are self-priming up to 2 m. All Prisma pumps have 1" threaded suction and delivery connections. 
This range of Espa pumps is characterized by the quality of its materials, such as the AISI 420 stainless steel of the pump shaft or the wrap-around body and the impeller with AISI 304, making them resistant and reliable.
Electrical characteristics Espa Prisma water pump
Electrical insulation: Class F
Service factor: S1
Degree of protection: IPX5
Reset: Automatic
Engine type: Asynchronous
Type of service: Continuous
Constructive characteristics Espa Prisma 15 
Suction diameter: 1"
Drive diameter: 1".
Sealing by means of: Mechanical seal
Stages: Multistage centrifugal pump
Engine cooling: Fan
Type of connection at aspiration: Thread
Type of connection ar impulsión: Thread
Espa Prisma pump materials 
Mechanical seal: Alumina-Graphite
Suction body: Cast iron
Drive body: Cast iron
Diffuser/s: Technopolymer
Pump shaft: AISI 420 stainless steel
Engine housing: Aluminium
Wrap-around body: Stainless steel AISI 304
Impeller/s: Stainless steel AISI 304
Seals: NBR/EPDM
Prism pump usage limits
Maximum suction (m): 2
Liquid temperature (ºC): Max: 40
Technical specifications Prisma 15
Dimensions Prisma 15
Curve performance Prisma 15
Data sheet
Power

0,5
0,9
0,33
0,75

Current

Single-phase
Three-phase

ean13

8421535047445