Pump ESPA Silen S 60 three-Phase
Pump for swimming pools, ESPA Silen S 60 compact 0.6 HP three phase.
This model is equivalent to the former ESPA Silen 50 0,6 HP three-phase (equivalent).
Perfect for the recirculation of water in swimming pools, domestic, or residential.
Aspiration: nipple for gluing of 63mm and connector adapter to glue 63 to 50mm.
Drive: fitting solvent of 50mm.
Completely silent.
With pre-filter transparent cover.
Pump compatible for water treatment salt.
Reference manufacturer: 203151.
* Images technical specifications in the description below.
Delivery within 2-3 days (ESP/PT) / 3-4 days (EUROPE)
Distributor: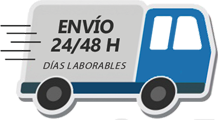 Pump pool ESPA Silen S 60 0,6 HP three-Phase
Centrifugal pump for swimming pool the renowned manufacturer ESPA. The pump Espa Silen S 60 three-phase 0.60 CV is the updated model that replaces the old pump ESPA Silen 50 0,6 HP three-phase, so that both pumps are fully equivalent. Spare parts for these pumps are also equivalent.
Some of the prominent features of the pumps ESPA is that they are compact, with great power and suction as indicated to work in the recirculating water efficiently with the minimum noise possible.
Pumps for swimming pool ESPA Silen S are perfect for pools domestic and collective thanks to your higher power that other models such as the Silen I.
All pumps for swimming pool Times Pool is supplied with fittings for suction and discharge for connection to the filtration systems with pipes diameter 50 mm
Features pump Espa Silen S 60
Pumps ESPA with its more than 50 years of history, they have managed to be one of the most prestigious and valued in the sector. These pumping systems are attributed the characteristics of quality, efficiency and reliability, but, above all, to work silently. Pumps for swimming pool ESPA come with a large pre-filter ensures high-energy efficiency and adaptability to the conditions and operation of each swimming pool, a fact that also enables you to reduce the noise of operation of the pump.
Innovation, engineering and service. These are the attributes that the manufacturer of pumping equipment for a swimming pool ESPA prints in their products. Pump products for efficient and quality services oriented to your customers.
Completely silent and continuous duty, the pumps online for swimming pools SILEN S are equipped with thermal protector built-in, plug, purge, pre-filter with transparent lid and closure lock.
Our shop swimming pools online is official distributor of pumps, ESPA and offers a large gamma of these engines of water. With a team of experts with more than 30 years of experience that can help you to find the pool pump that best suits your needs and your pool. Contact us and we will help you to find the best pump ESPA online and the most suitable to you.
Equipment Espa Silen S
Stand / Base: Included
Pre-Filter: Included
Connections: Solvent
Drainage plug: Yes
Check valve: No
Electrical characteristics pump pool Espa Silen S 60
Electrical isolation: Class F
Service Factor: S1
Degree of protection: IP55
Reset: Automatic
Motor type: Asynchronous
Type of rotation of the motor: constant Speed
Type of service: Continuous
Construction features Espa Silen S 60 T
Diameter suction: D63 with 63 to 50 mm adapter
Diameter drive: D50
Tightness by: mechanical seal
Stages: centrifugal Pump monoetapa
Engine cooling: Fan
Type of connection on the inlet Fitting to stick together
Type of connection on the drive: Coupling solvent
Type of impeller: Closed
Materials pool pump Silen S
Mechanical seal: Alumina-Graphite
Body aspiration: PP + 30% GF
Body swing: PP + 30% GF
Body enclosure: PP + 30% GF
Diffuser: PP + 30% GF
Axle pump: stainless Steel AISI 420
Envelope motor: Aluminum
/Drive is: PPO + 30% GF
Gaskets: NBR
Material of the foot-base: PP + 20% GF
Stands: PP + 30% GF
Pre-filter: PP + 30% GF
Cover pre-filter: Polycarbonate
Fasteners: stainless Steel AISI 304
Limits of use Silen S
No. starters maximum motor (bursts/minute): 0,5
Maximum working pressure (bar): 12
Fluid temperature (°C): Min: 4 - Max: 35
TECHNICAL SPECIFICATIONS ESPA SILEN S

CURVE PERFORMANCE ESPA SILEN S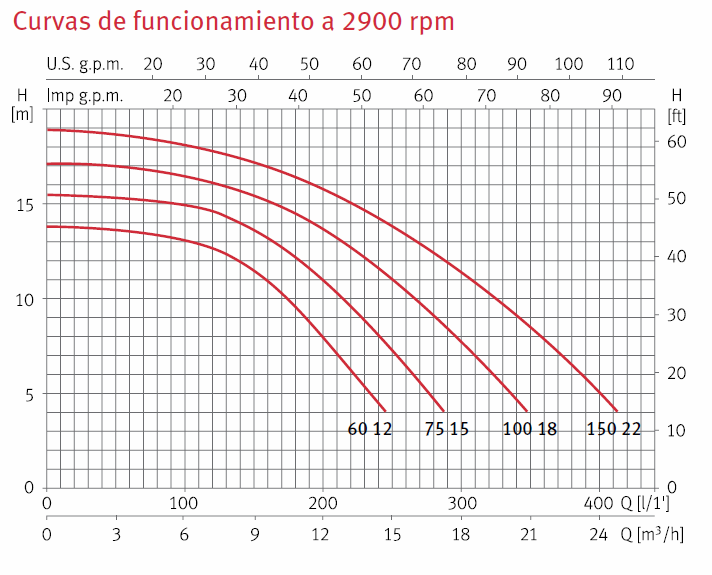 DIMENSIONS ESPA SILEN S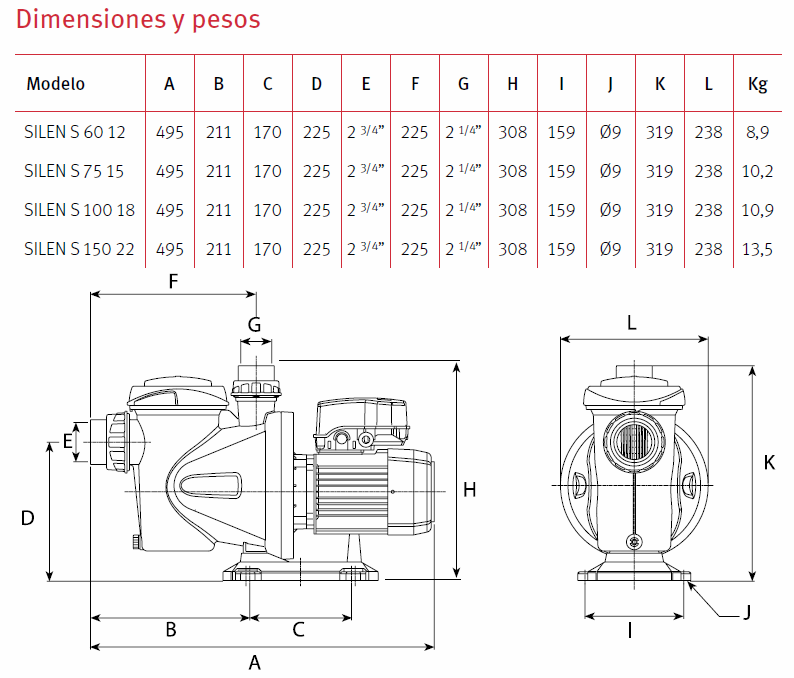 Data sheet
Etiqueta Connectif

Bombas ESPA
Power

0,6
Current

Three-phase
Variable speed

No
I have the ESPA pump

SILEN
SQUIPER
Anonymous customer published the 25/04/2016 following an order made on 31/03/2016
great
Comment from Momentos Piscina the 25/04/2016
We're glad you're satisfied with our poduct!