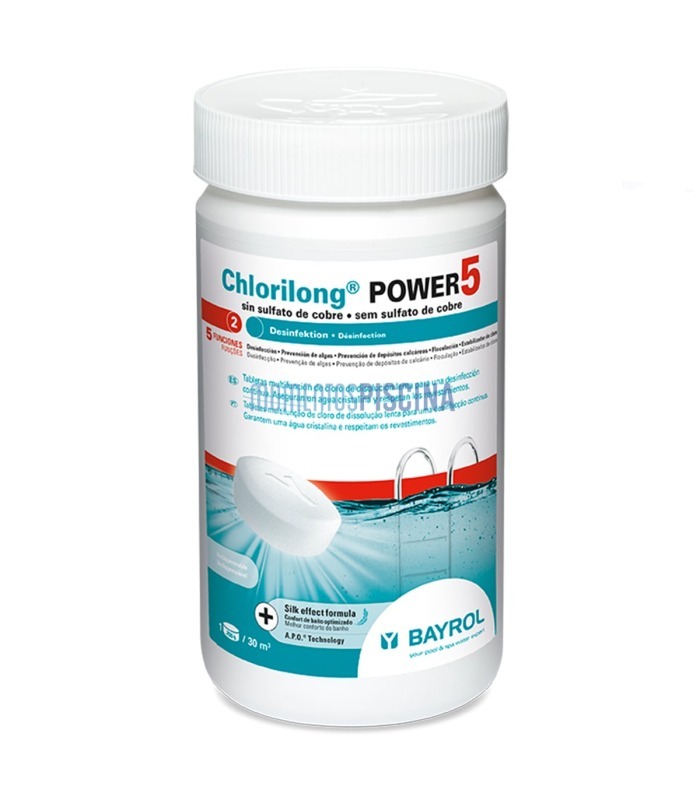  
Multiaction chlorine tablets Chlorilong power 5
Multifunctional tablets Chlorilong power 5
Slow and regular dissolving chlorine
Includes: disinfection, prevention of algae and calcareous deposits, flocculation and stabilizer.
Container of 1,25 Kg
+ shipping costs, see
here

Chlorilong power 5 multifunctional tablets 
Slow dissolving 250g multiaction chlorine tablets for slow and regular disinfection of pool water. Chlorilong Power 5 multi-action tablets provide 5 actions to ensure healthy, crystal clear water. The tablets dissolve evenly and release a regular amount of chlorine into the water.
Chlorilong Power 5 contains the following functions:
Chlorine disinfection
Algae prevention
Prevention of limescale deposits
Flocculation
Chlorine stabilizer 
Advantages of using Chlorilong Power 5
Practical multifunctional treatment in a single step
Slow and regular dissolution for uniform chlorination
Silk Effect formula for greater bathing comfort
No copper sulfate
Leaves no residue and does not cloud the water
Stabilized product: limits the decomposition of active chlorine by UV radiation
Multi-action tablets are perfect for weekly pool water maintenance to keep the water clean and crystal clear. They offer an extended duration of 7-10 days, depending on temperature, number of bathers, among other factors.
Chlorilong Power 5 tablets can be used for all types of filters except diatomaceous filters. A water volume of more than 20 m³ is required.
IMPORTANT: In pools made of liner, polyester, vinyl or painted, it should not come into direct contact, as it may cause discoloration.
We do not recommend multiaction chlorine for removable pools or spas that have a cartridge filtration system. The flocculant can clog the cartridge and cause deterioration of the cartridge.
Maintenance with multiaction chlorine 
Initial treatment
1. Check pH level at 7.2 - 7.6 ppm.
2. Add 10 gr. of granulated dichlorine per m³ of water.
3. Leave the equipment in filtration
4. After 2 hours adjust with pH regulators.
5. Follow the maintenance treatment
Maintenance treatment 
1. Check pH level at 7.2 - 7.6 ppm.
2. Insert 1 multifunction tablet of 250 gr in the skimmer for every 30 m³ of water 7 or 10 days.
3. Leave the filtration equipment running
NOTE: add the product preferably at dusk and without the presence of bathers.
Ideal pool chlorine level
In order to adjust the pH and chlorine of the pool to optimal values, it is important to check them with the analytical strips at least 2-3 times a week.
We distinguish different types of chlorine:
Free chlorine: chlorine with disinfection power. Optimal level of 1-3 ppm
Residual chlorine: chlorine without disinfection power. Optimal level of 0.5 - 2 ppm.
Total chlorine: combines free and residual chlorine. Optimal level of 0.5 - 1.5 ppm.
If the chlorine is well below the optimum level or there is a lack of transparency in the pool water, it will be necessary to perform a shock chlorination with granulated dichlorine. 
Package size

1 Kg/L

Format

Compact