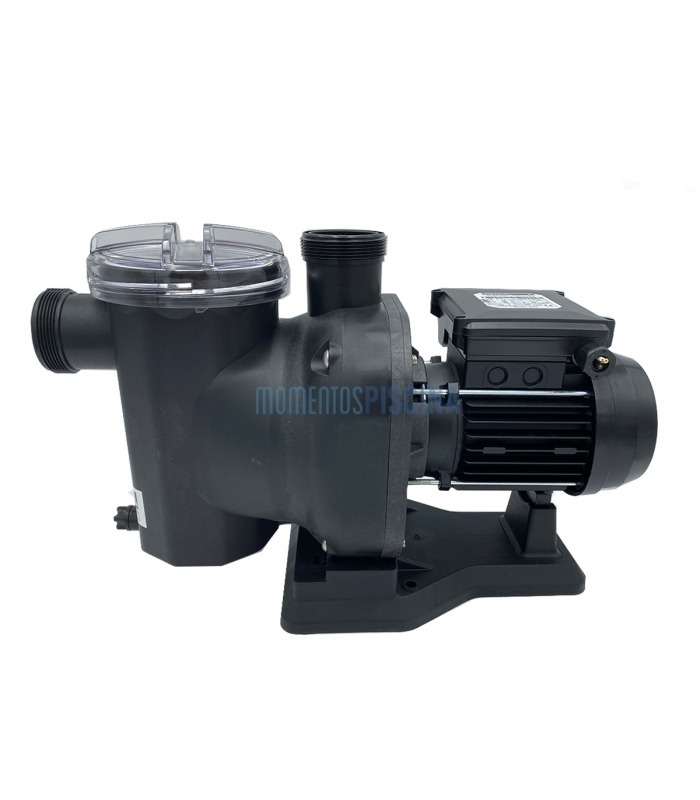  
Astralpool Sena pump
Self-priming pump for private pools 
Maximum flow with minimum noise.
Large capacity pre-filter with transparent cover.
With power from 1/3 CV to 1,25 CV. 
+ shipping costs, see
here

verified reviews(2)
Elena B. published the 20/09/2022 following an order made on 09/09/2022
ottimo
Anonymous customer published the 28/08/2021 following an order made on 20/08/2021
Buena
AstralPool Sena pool pump
AstralPool's Sena series of pool pumps has been designed so that the maximum flow rate and low noise level go hand in hand with the intention of fully satisfying the requirements of the private pool and with an attractive design that is already characteristic of AstralPool.
The pump's self-suction power stands out, above 2 m without foot valve. In addition, the Sena pumps are made of technical plastics with a pre-filter of 2 L capacity and its transparent cover allows the interior of the pre-filter to be seen.
The Sena pump series is available from 1/3 HP to 1.25 HP with single-phase motors and from 3/4 HP to 1.25 HP in three-phase motors allowing to work at 230 V and 230/400 V with a variation of ± 10% with respect to the nominal voltage due to the incorporation of eurovoltage motors.
Sena pump benefits
Low noise level: Sena pumps work at full capacity with an optimum noise level in all models. This minimizes the perceived noise effects in the pool environment.
Practical design: The entire range of Sena pumps incorporates the bayonet lock on the pre-filter cover, which allows the pump pre-filter to be closed in four different positions in a single movement. The cross configuration of the pre-filter cover allows any tool to be used to open or close it.
To fix the foot to the body of the pump we have chosen a foot of great stability and easy assembly, eliminating the screws.
Sena Astralpool pump characteristics
Power ratings from 1/3 HP to 1.25 HP in single-phase motors and from 3/4 HP to 1.25 HP in three-phase motors.
GS marking included
Flow rates from 7.000 l/h to 14.000 l/h
IP-55 protection, preventing the entry of solid and liquid particles inside the motor.
Class F motor insulation, making it possible to install the Sena range in environments with high humidity and high temperatures.
AISI-316 materials in all parts in direct contact with water.
Sena pump technical specifications
Stainless steel pump screws.
Connection fittings for suction and delivery of 1.5" for Ø 50mm sleeve.
Mechanical seal made of AISI 316.
Turbine made of NORYL ®.
Pump body and diffuser made of polypropylene with mineral charge and glass fiber.
Class F insulation and IP-55 motor protection, which allows them to work in environments with high humidity and high temperatures.
Self-priming capacity above 2 m.
Standard range at 50 Hz, also available at 60 Hz.
Elements that make up the pump 
The following diagram shows the different elements that make up the Sena pump:
Transparent pre-filter cover with bayonet fitting. It does not need a key to open it
1,5" connection fittings for suction and delivery, for Ø 50mm sleeve.
Pre-filter basket to prevent ingress of elements
Easy-to-open drain plug
High stability pump foot
Mechanical seal in AISI 316 and fixed part in Aluminium Oxide
Impeller made of Noryl
Bearing prepared to work with high temperatures
Eurotension motor. Class F insulation. ip 55
Performance curves
Dimensions Astral Sena
Power

0,5
0,33
0,75
1
1,25

Current

Single-phase
Three-phase

Variable speed

No

ean13

8420382071375