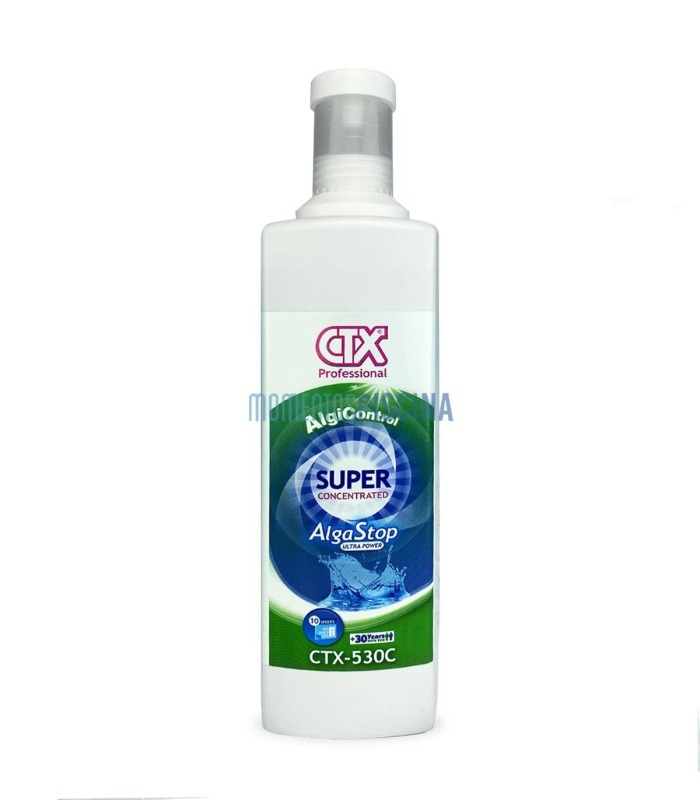  
AlgaStop Ultra Power CTX
Anti-algae concentrate it More power in every drop!
The range Algicontrol CTX offers an extensive range of anti-algae non-foaming agents for the

prevention and elimination of all types of algae that can appear in a swimming pool.

1 litre container. 
+ shipping costs, see
here

WHY DOES ALGAE COME GET IN THE POOL?
Algae are autotrophic plant microorganisms which are introduced into the pool water by wind, rain or other swimmers. 
Algae are formed from mineral salts, such as phosphates, carbon dioxide and light, which through photosynthesis are synthesized into carbohydrates (organic matter) and oxygen is released into the atmosphere.
The conditions for algae to reproduce are: very hot water, unbalanced pH levels, few hours of filtration...
Algae will settle in the pool when free chlorine is not enough, so avoiding algae in the pool is only a matter of good maintenance. 
AlgaStop, extra concentrated anti-algae of fast action with the micro-flocculant power which gives it a greater capacity to prevent the appearance of algae that appear in suspension. 
BENEFITS OF APPLYING ALGA STOP ULTRA POWER
Non-foaming
For all types of pools and filtration systems
It is a concentrated maintenance product that thanks to its will allow you to keep the pool free of algae of all kinds
Concentrated product format for 20 weeks
Revolutionary dosing cap that allows to adjust to the maximum the exact dose, helping to save and use the product more efficiently 
PREVENTION IS THE BEST SOLUTION
To avoid the formation and development of algae it is important to do a good maintenance of the pool:
pH level between 7.2-7.6
Chlorine level between 0.5-1.5
Pass the cleaner and brush the walls
Control the hours of filtration, in summer we recommend about 6-8 hours a day
Apply algaecide product to prevent algae formation 
Add 180 ml of product for every 50 m3
Add 60 ml of product for every 50 m3 of water once a week
* Repeat the initial dose whenever there is a lack of transparency in the water.  
* Pour the dose of product in a container with water and spread it over the entire surface. Preferably at sunset and without the presence of swimmers. 
PROPERTIES OF THE ANTI-ALGAE ALGASTOP
| | |
| --- | --- |
| Appearance | Liquid |
| Color | Navy blue |
| pH (concentrated at 20ºC) | 6.0-9 |
| Density (20ºC) | 1,06-0,05g/cm3 |
Package size

1 Kg/L

Format

Liquid